Digital Camera Recommendation Wanted
• {"login"=>"fuzzyblog", "email"=>"eric@appdata.com", "display_name"=>"fuzzyblog", "first_name"=>"Scott", "last_name"=>"Johnson"}
I've been getting the serious urge to upgrade my digital camera lately.  Right now I'm using a 5 year old 3 megapixel Kodak which, while working wonderfully, makes me feel kinda lame truth to tell.  And I had an absolute blast taking lots and lots of pictures over the Thanksgiving Holiday at Shelley's parent's house.  Now I've always owned Kodak digital cameras and I, honestly, have no real desire to change.  I'm thinking about the Kodak P880: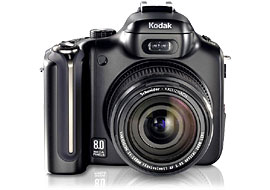 I've also been thinking about the Canon S2:
They're both 5+ megapixel which is more than enough for anyone who's not a pro (imho).  They both seem to have good lenses.  My preference for the Kodak is that it will likely have a substantially better user interface and be much more usable.  My wife's Canon A80 PowerShot is just plain painful.  They're both SD media sadly relegating the Compact Flash slot on my Thinkpad into instant uselessness.  Sigh.
Update: A quick of DPReview makes me think that I should also look at the Kodak Z740: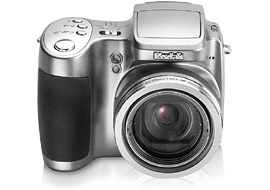 So anyone have any thoughts about any of these?  I know that the first is much higher end but since I keep my gear for 5+ years in general, the price difference doesn't feel that much.  And I have a little one who's fast as the dickens so a fast acting camera is important (I missed several great images this past week).
---